Just as Apple released its Apple Card last year in partnership with Goldman Sachs, it all shows. Google is also preparing the same. Based on photos and information obtained by Tech Crunch, it appears that Mountain View is working on a physical debit card that may have an Android-related app and will be fully integrated into the Google Pay payment system.
The new leak joins statements made by a company executive at the Wall Street Journal last November, when he announced that Google was learning how to do so partner with banks and credit agencies in the United States to provide smart checking accounts with Google Pay.
Payments made online and over the phone
Photos published by TechCrunch show that Google will create its own virtual debit card, and a related checking account, will allow users pay by phone or online. This card, as seen in the screenshots, will be linked to a Google app that we can easily track purchases and payments, confirm the balance or block the account.
The medium ensures the card will be have your name signed with various bank partners, including CITI and Stanford Federal Credit Union, and, like the Apple Card, will initially be available in the United States. In this regard, Google hopes to expand its capabilities as a financial technology authority by expanding the use cases of its Google Pay service.
Although Tech Crunch warns that card design and use is inexplicable, in the pictures we can see a chip card from the VISA network and a linked Android app (probably Google Pay) where users can add or transfer money to their account, and use fingerprints and a PIN code to authenticate them.
Once they are connected to their bank account, users can pay for purchases in physical retail stores with a Google bank card, even non-negotiable payments, simply approaching the card reader. The type of card used can be used for mobile payment in blue, while we use that virtual payment card number online or in the app.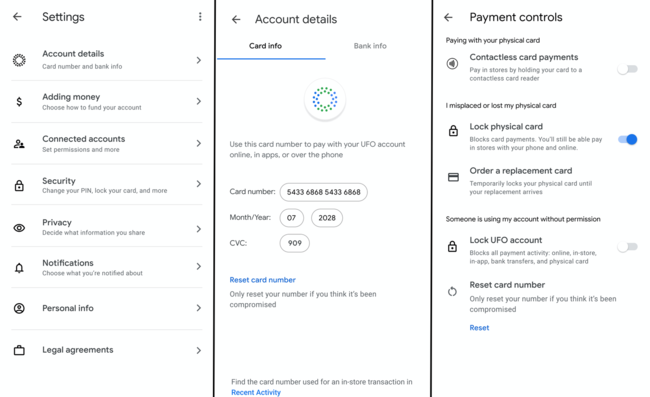 On the app screen, we see a list of recent transactions, each with the seller's name, date and price. By entering each payment, we can see the location on the map, get directions, or call the store in the store. If a user does not accept liability, if they have lost a card or suspect that they have gained unauthorized access to their account, there are many ways to be safe
which may allow you to set spending limits, block the card, request an extra deposit without stopping payment, reset the number, etc.
Although they can't find any pictures of it, Tech Crunch says that in the configuration we will be able to have it set notifications and define privacy controls "to decide what information to share". The midfielder has questioned the company's leaks and confirms that Google has not denied its findings or claim; instead, refer them to statements they made a few months ago in the Wall Street Journal mentioned earlier.
Track | Tech Crunch