Accessibility options included in all Apple operating systems, make their equipment usable by any user whether or not you have a disability. Options that multiply with each new version of the operating system, becoming essential for Apple, for which has received several awards around the world.
These accessibility options allow people with visual, motor, sensitive or hearing problems to use their equipment without depending on anyone and making their daily lives easier.. A few tweaks that we have shaken in some of our tutorials allowing us to perform some very interesting actions, to which we add a new one with which to use the voice to take pictures without having to touch the iPhone (or iPad).
Chances are some of you will think that having the shooting timer built into the camera app, an Apple Watch to take the photo, or just a tripod with an actuator Bluetooth none of what we say below is necessary. But if, like us, you like to experiment with your gear and discover all the possibilities of your iPhone, this tutorial is for you.
How to take pictures just by asking the iPhone
The first thing we need to do to be able to take pictures with a voice command is access the accessibility settings of the iPhone or iPad to configure the entire system. For this we will have to follow the following steps:
We go to settings> Accessibility
Once inside, we find the voice control settings and activate them. If this is the first time that you have entered these parameters, you will see that at the moment only English commands can be used, but for the action we are going to perform there is no problem., since the photo and the photo are pronounced almost the same in both languages.
Now click on activate orders and create a new order by following these instructions:
In the sentence section we will write the word "photo" (without quotes).
In the application section, we will choose of all who appear Camera.
In action, we will choose "perform a personalized gesture" where we will click once above where it says hide controls. The idea is that this gesture that we create simulates our finger pressing the button on the camera. and we keep everything.
How to use the command to take pictures with our voice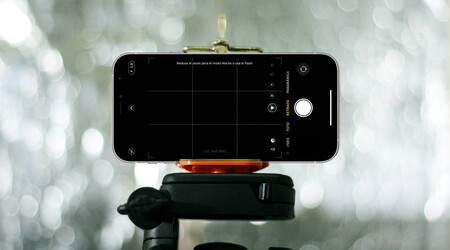 Once you've created voice control in Accessibility settings, using it couldn't be easier. The first thing to do is to make sure that Accessibility Settings voice control is turned on. If so, a microphone icon will appear at the top left, letting us know that it's ready to hear the word "Photo" which will activate the whole process.
We open the iPhone or iPad camera app and select 'Photo' or 'Portrait' mode (it works with both).
Now we say the magic word "Photo" and we will see how the photo is automatically taken without touching a button.
A good system supported by the accessibility options to try during those Christmas holidays and those typical photos with family, friends or with your pets.