Want to take your business to the next level and save time? Nomo is the all-in-one platform for freelancers and SMEs that will allow them to manage everything, track and organize all the paperwork: invoices, expenses, taxes and much more.
We have been hearing about the digitalization of businesses for years, but it is already a reality. Technology allows us to be more efficient and Nomo is a solution for all freelancers and SMEs to focus on their work, on growth, leaving Nomo technology in charge of traditional accounting and financial management.
Nomo is a platform available both in the desktop version through its official website, and from mobile devices, through the app on iOS and Android. From there, freelancers and SMEs have at their disposal all kinds of management and organizational tools, from monitoring documents such as invoices, budgets or expenses, to even having a real-time forecast of taxes that will need to be paid or presented with its tax management service.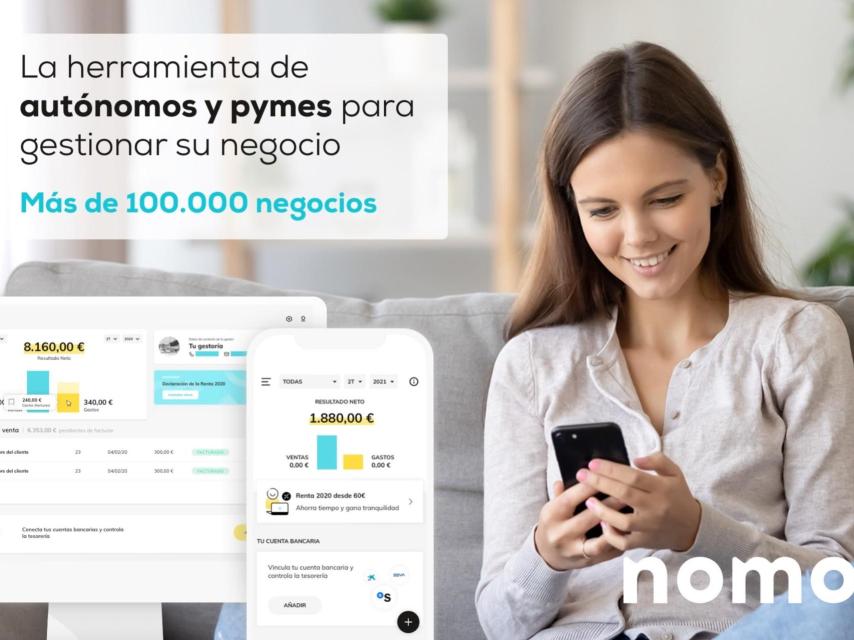 What does Nomo do
Among the services on the Nomo platform are:
Bill control of income, expense and bottom line invoices.
Creation and sending of budgets, as well as unlimited invoices in the same deadline
Invoice and receipt scanning service using OCR character recognition technology to quickly identify any document.

Real-time forecast of taxes payable.
Reconciliation of bank transactions with sales or expense invoices. In 10 seconds the bank account is linked.
Anticipation of invoice collection to obtain liquidity.
Nomo also offers a digital tax management service, with which entrepreneurs can carry out unlimited surveys and, for example, entrust the filing of taxes.
The Nomo platform is available in two subscription formulas, with monthly or annual payments, to adapt to the needs of the self-employed and SMEs.
On the one hand, the Nomo Standard Plan includes everything mentioned above except the management service. You can find this service from $ 7.9. The superior subscription, called Premium Plan, covers all the Standard's services, and the digital tax management service is added to delegate the presentation of taxes, generate accounting books and have support for any questions by e-mail, call or cat.
Find all the details of Nomo on its website and download its application for free on Google Play and the App Store.
Who uses Nomo?
There are over 100,000 businesses managed by Nomo. Architects, journalists, online or traditional stores, carpenters, transporters, hairdressers, and many other sectors use this service which saves them time, money and trips to the manager. Whatever your industry, Nomo adapts to all needs so you don't have to worry about anything other than your business.
.