Apple fans have once again put their wits to the test!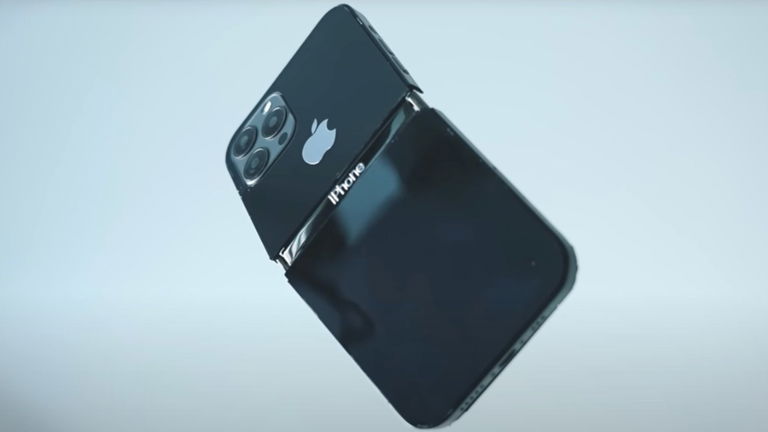 There's been a lot of talk about Apple's foldable iPhone in recent years, with little certainty that it's something they're really planning to launch from Cupertino at the moment. But as has been shown in the past, when Apple fans want a product, they're able to outsmart the company and make it themselves.

Thus, and as they shared on the Chinese technology channel "Scientific and Technological Aesthetics", on YouTube, an engineering duo set out to create the first foldable iPhone

known. With a plan and tools, they got to work, but not completely from scratch. The end result was achieved through the transformation of an iPhone 13 Pro.
The first foldable iPhone is a reality
The video in question iPhone 13 hardware intervened with a hinge that comes from the Motorola RAZR thanks to its "small" screen fold, which other foldables like the Galaxy Z Flip, for example, do not offer. Although at first glance the result is a foldable iPhone, it lacks a speaker, as well as all the wireless charging and MagSafe components.
Similarly, a small custom battery was built with just 1000mAh of capacity, which is a quarter of that of most iPhones.
Of course, it was not an easy process. In the post, they point out that the result cost 200 days of trial and error, until creating a foldable iPhone that would keep a maximum of parts of the original devices, known until now. As part of the design criteria, it had to be flexible enough to bend while retaining touch functionality.
As we mentioned earlier, this is not the first time that a user has moved ahead of Apple. This 2023, two users managed to bring USB Type-C ports to the iPhone. Others have even been able to double their battery capacity through engineering. However, this folding device seems to be beyond the possibilities and it would be hard to think that the normal OLED panel could withstand this type of use without breaking.
While seeing such a prototype might be exciting after years of rumors, analysts are banking on Apple's announcement an "iPhone Fold" with a flexible OLED screen, only in 2024.
For you