Nowadays having a good Internet connection is essential. While it was optional, today we need to connect to the network for almost everything. From smart appliances to computers and consoles, through smartphones, speakers, e-book readers and a myriad of devices and gadgets, we are surrounded by technological devices that require an Internet connection to function properly.
The rise of teleworking has only increased the need for a good connection; we have had to adapt to these new times and set up real offices in our homes. What, once again, inevitably involves connecting in a stable and fast way to the network. And the gaming sector, of course, was not going to be less.
For years we played alone, or at most on a local network. But for a long time the online component is one of the most striking of video games. And if not tell competitive players, both amateurs and professionals; titles like Fortnite, Call of Duty: Warzone O Grand Theft Auto Online these are just a few examples of games whose reason for being is to interact with other players. Not to mention streaming platforms, which work entirely through the Internet.
Thus, in the game experience that we obtain in any online, competitive or cooperative title, in addition to the performance of the console or the PC in which we play, the quality of our Internet connection also comes into play; an irregular line, with constant cuts or a low speed can lead to a high ping and lag that make gaming sessions infumable.
So that any player who wants to stand out in competitive environments, or who simply wants to play smoothly and smoothly, you must have a router that offers good speed and Internet connection. Because although most of the time we will connect using a network cable, there are times when we have no choice but to pull WiFi
.
What should we take into account when choosing a WiFi router to improve our connection?
The usual thing is that all of us who have an Internet connection already have a WiFi router; companies often include them in their plans, so in many cases nothing more will need to be done. But these have a lot of room for improvement (depending on each model, of course), margin that goes through acquiring a new router. But depending on the needs and circumstances of each player, the purchase must go in one direction or another.
Number of connected devices
Something obvious, but one that we often overlook, is the number of devices that are connected to the same router. As we have mentioned above, today we have an infinity of devices connected to the Internet: televisions, smartphones, tablets, consoles, electrical appliances, speakers … each of them consumes a part of the bandwidth offered by our provider and our router.
So an inexpensive, easy and fast way to improve our connection while we play is to limit the number of devices that are connected to the network. Something as simple to do as disconnect those devices that we are not using. Although we must take into account a very important factor: who we live with and whether those people also need the Internet.
Router location
Another important aspect goes through where we have located the router. It is true that there are times when we cannot do much, either because the installation of the house limits us or because placing this transmitter in this or that room is impossible. Well in those cases we can always use WiFi repeaters that will allow us to amplify the signal and take her to rooms that were initially out of range.
But if we have margin when it comes to putting the router where we want, the ideal is to do it at the closest point to the team where we are going to play. Or if the use that we are going to give the connection is mixed, that is, that we must distribute it with the rest of the devices in the house, it is better to have a position as centered as possible. Thus, even though the signal has to pass through walls, it will reach all rooms more or less the same.
Let's use the 5 GHz band whenever possible
In recent years it is common to use routers with dual bands: 2.4 GHz and 5 GHz. Each has its pros and cons. But since we are interested in maximizing the speed and stability of the Internet connection, the optimal thing is to connect to the 5 GHz network. This translates into greater speed despite having a shorter range. Although, generally speaking, it is usually worth doing.
If not, we can always connect to the 2.4 GHz band. And even allocate it to those other devices where the quality of the Internet connection not as vital as while we are playing: smartphones, gadgets and household appliances in general.
Recommended Models
At the point where we already know the circumstances surrounding the network of the place where we play and having optimized them to the maximum, if we still want to make a leap in quality in our Internet connection, We only have to buy a superior router. Or in the event that our problem is given by the distance we are from our current router, even though this is a solvent, do the same with a repeater.
So next we are going to see some of the most interesting models that we find on the market in the middle of 2021 with which to improve our Internet connection in general, and our gaming experience in online gaming sessions in particular.
Xiaomi WiFi Repeater
For only 13,98 dollars We can give our WiFi network a plus with this Xiaomi repeater. It has two antennas to ensure better coverage throughout the house and promises a speed of up to 300 Mbps. Without a doubt, it is one of the cheapest ways to bring an Internet connection to any room.
Xiaomi WiFi Network Repeater Wifi Extender Range Extender (Ethernet Port, 10/100 mbps, with plug, 300 Mbps, 2.4 GHz) Wireless Network Wireless Signal Enhancement Network Wireless Router
ASUS RT-AC58U
At a slightly higher price, but also very contained (69,90 dollars) we found this router from the Asus brand. It is the RT-AC58U and offers speeds of up to 867 Mbps and 400 Mbps for the 5 GHz and 2.4 GHz bands, respectively. It incorporates four antennas to maximize coverage and a quad-core processor. In addition, it is aesthetically interesting and can look good in different environments.
ASUS RT-AC58U – Router inalámbrico Dual-Band AC1300 Gigabit (USB 3.0, Servidor VPN, MU-MIMO, CPU Quadcore)
ASUS RT-AC68U
Overcoming the barrier of 100 dollars (113,67 dollars) we have this other router from Asus, the RT-AC68U. It only includes three antennas, compared to the four of the previous model. It is AiMesh-compatible, dual-band, and its maximum combined speed is up to 1,900 Mbps. It includes five network cable ports.
ASUS RT-AC68U AC1900 Dual-band Gigabit Wireless Gaming Router (Access Point / Repeater, USB, Supports 3G / 4G, Supports Ai Mesh wifi), Black
ASUS RT-AX82U
For 137,90 dollars, and with a tremendously gaming design, we find this other Asus: the RT-AX82U. The first thing that comes to mind, of course, is its aggressive aesthetics, that even includes RGB lighting. So it is not as easy to fit among the rest of the furniture as others. But focusing on what it offers, which is what really matters, this router is dual band, incorporates four antennas and is compatible with AiMesh. It allows reaching up to 5,400 Mbps.
ASUS RT-AX82U – AX5400 Dual Band Gigabit Gaming Router (PS5 and Smart TV Compatible, Mobile Gaming Mode, AiProtection with TrendMicro, WiFi AiMesh, Gaming Port, Adaptive QoS, Aura RGB)
Netgear Router WiFi Nighthawk X6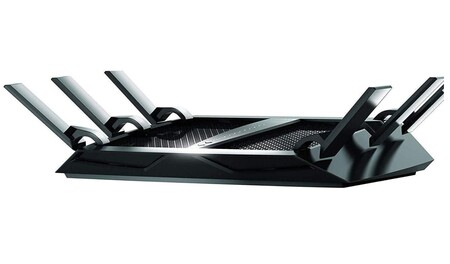 For a little more price, 159,90 dollars, there is this model from Netgear. Also with a marked gaming aspect, it incorporates no less than six antennas, which helps to improve coverage throughout the home. Available in black, it is dual band, offers a speed of up to 3,200 Mbps and includes security and parental control software.
Netgear Nighthawk X6 WiFi Router, AC3200 TriBand, 4 Gigabit Ports, Armor Protection, Black (R8000-100PES)
ASUS RT-AX92U
Approaching the end we have this other Asus router for a price of 165,90 dollars. With one of the most gaming designs, it is an excellent option for spacious places. It is compatible with AiMesth and incorporates 512 MB of RAM memory.
ASUS RT-AX92U – Router Gaming Wi-Fi 6 AX6100 Tri-Banda Gigabit (OFDMA, MU-MIMO, Triple VLAN, Modo Punto de Acceso, AiProtection Pro con Trend Micro, Adaptive QoS, soporta Ai Mesh WiFi)
Synology RT2600AC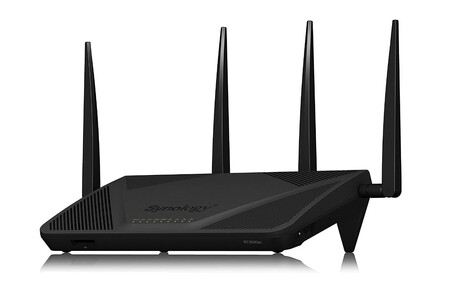 Finally, and for a price of 229,90 dollars, we found this Synology RT2600AC. Available in black, it has a dual band of 2.4 and 5 GHz and offers a maximum speed of up to 800 Mbps and 1,733 Mbps for both bands, respectively. It has four antennas and five RJ-45 ports.
Synology RT2600AC – NAS (HomePlug) Color Negro
More offers
If you become Amazon prime, you have a 30-day free trial (after 36 dollars per year) to enjoy free fast shipping, priority accessory to offers, services such as Prime Video, Prime Music and unlimited photo storage. Also, if you are a student, make yourself Prime Student It costs half and you have a 90-day trial. You can also try services such as free for 30 days Kindle Unlimited O Audible.