All information about Season 17

In Season 17 of the Naval CIS, Gibbs and his team must investigate new cases where the NCIS team faces unforeseen problems. In our plot guide, you will discover which cases must be clarified in individual plots.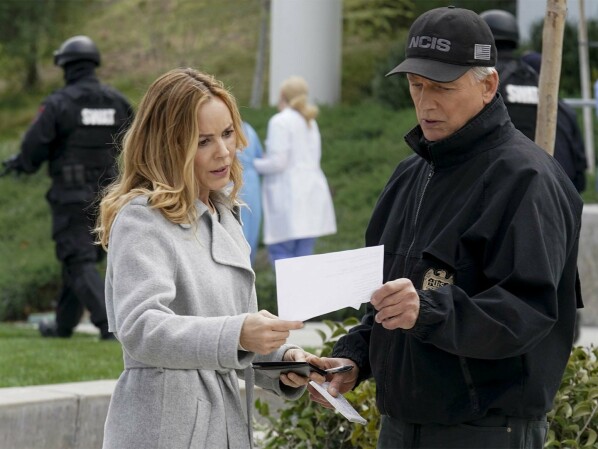 The Navy CIS is the longest-running TV series broadcast on the American television station CBS, and also the highest-rated TV series. It is logical for NCIS to extend the 17th season. Lead actor Mark Harmon not only took the role of Gibbs again, but also served as an executive producer.
table of Contents
Navy CIS Season 17 is on Netflix, Amazon and Co.
Naval CIS: Season 17 episode guide

Episode 1: The Devil
Ziva surprised Gibbs with a mysterious warning. Now, he wants to know why she lived underground for many years and is considered dead. So, what caused them to return?
Original: Out of the darkness
Premiere: September 24, 2019
Episode 2: Plan C
In the face of a possible terrorist attack plan, the lives of Gibbs and Chiva were in danger, and the unauthorized investigations of Gibbs and Chiva suddenly changed.
Original: Into the light
Premiere: October 01, 2019
Episode 3: Garden Gnome Death
A body was found under the truck sent to the shipyard. Check other delivery stations for clues about where the crime scene is located. They also searched for suspects. Sloane encouraged the team to talk about the emergence of Ziva.
Original: Mobile
Premiere: October 08, 2019
Episode 4: Brotherhood
The NCIS team discovered the link between a strange murder in Arlington National Cemetery and a series of attacks on veterans. Vance ordered McGee, Bishop and Torres to do evidence of garage cleaning because they concealed the information.
Original: Others' shoes
Premiere: October 15, 2019
5 insomnia
After evidence showed that she had allegedly killed her neighbor, the team investigated a Marine soldier and she was treated by a hypnotist because of insomnia.
Original: wide awake
Premiere: October 22, 2019
Episode 6: Best Friends
When the son of a boatman was murdered at the "Welcome back from prison" party, there was evidence that Kasie's lifelong friend Dante Brown was the main suspect.
Original: Institutionalization
Premiere: November 05, 2019
Episode 7: Monarch Motel
While investigating the murder at sea, the NCIS team discovered a network of real-time surveillance cameras at the location of the Virginia Motel.
Original: No vacancies
Premiere: November 12, 2019
Episode 8: Wrong tones
The NCIS team is investigating the murder of a musician in the elite navy band who has appeared in diplomatic activities around the world.
Original: Music chair
Premiere: November 19, 2019
Episode 9: Phins Best Day
In episode 9 of Season 17 of the Navy CIS, called "IRL," the NCIS team investigated a murder case that was broadcast live on a popular game website. Gibbs also observed how his 11-year-old neighbor was alone when his mother traveled last minute.
Original: Internal Rate of Return
Premiere: November 26, 2019
Episode 10: 14 Years and a Bullet
Ziva has announced in Season 17 of the Naval CIS that she "does only one thing" before returning to her family. Now is the time. In episode 10 of the CBS series, "Arctic," Gibbs and his team Ziva helped them eventually return to their families. But not everyone in the team believed her. It turns out that "Sahar" is someone that Gibbs knows: his neighbor Sarah. When Ziva fights Sarah, Gibbs must shoot his neighbor.
Original: Arctic
Premiere: December 17, 2019
Episode 11: Rule 9
In the 11th episode of the Naval CIS "Wind", Gibbs must bear the consequences of the last episode of the CBS series, and through Gibbs' hand, tell the neighboring boy Phineas that his mother is dead! Gibbs must also admit to Phineas that his mother is a criminal named Sahar.
Original: In the wind
Premiere: January 7, 2020
Episode 12: Pilot
In step 12 of Season 17 "Flight Plan", the NCIS team investigated the crash of the multi-purpose fighter and the missing pilot. This is certainly not suicide, the pilot is also the main suspect in the murder. At the same time, McGee is discussing a very personal issue with his teammates in the CBS series.
Original: Flight Plan
Premiere: January 14, 2020
Episode 13: Sound off
In the new episode of the Navy CIS, a dead body was found in the driverless field of the car test site. The NCIS team must now determine whether the deceased was murdered or accidental. During this period, Palmer is carefully interviewing candidates who are employed as medical assistants.
Premiere: January 21, 2020
Episode 14: On Fire
In the new episode of the Navy CIS, it hit its own team members. In episode 14 of the CBS series titled "Fire", Torres and Bishop were caught in a traffic accident. The criminal carries out the pilot's flight. Torres is now fighting for his life in the intensive care unit, and Bishop and Gibbs do their best to kill the perpetrators. Torres finally survived.
Premiere: January 28, 2020
Episode 15: Lonely Heart
The main suspect in the murder that the NCIS team is investigat ing was Gibbs 'boyfriend Phillip Brooks who met on a dating site. Sloane also had a secret admirer on Valentine's Day.
Premiere: February 11, 2020
Episode 16 Ephemera
A retired naval officer committed suicide. During the investigation by the NCIS team, Gibbs and Co. encountered a rare, valuable and potentially stolen coin that the deceased bequeathed to the National Naval Museum. Now, the team is trying to find out how the former naval officer mastered the coin.
Premiere: February 18, 2020
Episode 17: In short
The NCIS team investigated a murder case. A non-commissioned officer was murdered like his parents for ten years in front of him. The team stumbled upon a container filled with doll houses, all of which were crime scenes.
Episode 18: Educated
A respected naval technician was found dead in a lake where community activities occurred. When Sloane's daughter Faith made an unexpected request to her, she also found herself in an unprepared state.
Episode 19: Blarney
Three armed criminals tried to escape. During the flight, they eventually entered the small restaurant where Palmer and Kasie dine together. The situation escalated and hostages were taken.
Episode 20: Arizona
Christopher Lloyd (Chris Brown from Dr. Brown "Back to the Future") appeared in the final. He played Joe Smith, a Pearl Harbor veteran, based in the United States. It is said that Arizona is already in service. He wanted to be buried there after his death, so Gibbs and his team set out to confirm his identity. In addition, they will investigate the theft.
Naval CIS Season 17: Actors

After season 15 after Abbey Sciutto is no longer part of the series, fans no longer have to say goodbye to any of their favorites this time. Cote de Pablo finally joined the cast as Ziva David again in 2016. Her role is considered dead, but as pointed out in Season 16 of the Navy CIS, Chiva is still alive. Mouzam Makkar joined the cast as the villain Sahar. So far, nothing is known about the guest actors.
Naval CIS Season 17: Production

In the official statement of CBS boss Kelly Kahl, the good news for the new season is as follows:
"NCIS has been a global" hummingbird "for two decades (a heavy truck; here is a metaphor for the series' huge popularity). Our audience is clearly the most loyal person of all drama series. This passionate character, storyline or storytelling is due to our talented production team and actors led by the distinguished Mark Harmon. We are happy that the show will continue to be the key to the CBS show. "
CBS President Kelly Kahl
You can read what happened so far in the playlist guide for Season 16 of the Navy CIS. Our series of Wikis tells you all about NCIS characters, plots and productions. In addition, our broadcast overview will tell you where you can see NCIS in TV and video streaming.
Season 17 of the Navy CIS is on Netflix, Amazon and Co.

We regularly check the availability of Netflix, MagentaTV, Amazon Prime Video, iTunes and Co. in the German Navy CIS Season 17.
You can check if your streaming provider can provide the season in the table below.


unavailable

Netflix

Season 17 does not apply to Netflix



unavailable

Amazon Prime Video

Season 17 does not apply to Amazon Prime Video



unavailable

Disney +

Season 17 does not apply to Disney Plus



unavailable

Air tickets

Season 17 does not apply to Sky Ticket



unavailable

Sky go

Season 17 is not available on Sky Go



unavailable

Magenta TV

Season 17 is not available on MagentaTV



usable

Jon

Season 17 is available from Joyn



unavailable

TVNOW

Season 17 is not available on TVNOW
On a separate page, we provide you with a complete list of Navy CIS seasons provided in the stream.
Season 17 of buying and renting Navy CIS

Are you willing to not subscribe and still want to see the 17th season of the Navy CIS in the live broadcast? no problem!
With providers like iTunes and Co., you can usually buy TV series without a season ticket subscription, or you can buy and borrow individual episodes.
In our overview, you can see from which providers you can buy and / or borrow Navy CIS.
Can't find what you want or other seasons of Navy CIS? We provided an overview of the season together with the corresponding providers / services.
This page was created using data from Amazon, Netflix, MagentaTV, Sky Online, iTunes, Movie Database, Fanart.tv, Warner Home Entertainment, Sony Home Entertainment, or respective studios and / or publishers. If there are errors or problems, please use the contact form.