Ys is an action RPG video game saga created by Nihon Falcom, and one of the pillars of its developer. Its first title was published in 1987 and it is respected as one of the "grandfathers" of JRPGs around the world but, unfortunately, it has never reached the levels of popularity that other JRPG franchises achieved in those same years, such as Dragon Quest o Final Fantasy. This same year 2022 celebrates its 35th anniversaryso why don't we see what are the ideal points to start playing this saga and what order you should follow?
What should I know about Ys?
To begin with, you should know that each game is an independent and "isolated" adventure which does not necessarily require knowledge of foreplay, except in the case of Ys I e Ys IIwhich should be played one after the other (And, preferably, before or after Ys Origin). So, any game is a perfect starting point, you can start with the one that interests you the most. Nevertheless, all games Ys are interconnected with each other through clever lore, so order matters.
all (except Ys Origin) follow the adventures of
Adol Christin,
our red-haired protagonist. His life is collected in 100 travel diaries, which are told through each title. It should also be noted that the soundtracks of each and every one of the games of
Ys
It is of a wonderful quality and, in my case and in the case of many, one of the biggest reasons to enter this saga.
How many games of Ys hay?
Today, only 9 titles are considered part of the main numerical saga, so we will not go into details about titles replaced by remakes or not translated into English so as not to extend the article more than necessary. However, I highly recommend taking a look at titles replaced by remakes or Ys V, which don't make the list.
Let's take a look at the titles this saga has to offer, sorted by release date:
Ys I (available on PC, PSP, DS and mobile)
Ys II (available on PC, PSP, DS and mobile)
Ys VI: The Ark of Napishtim (available on PC and PS2)
Ys: The Oath in Felghana (available on PC and PSP)
Ys Origin (available on PC, Vita, PS4, XB1 and Switch) (in Spanish!)
Ys SEVEN (available on PC and PSP)
Ys: Memories of Celceta (available on PC, Vita and PS4)
Ys VIII: Tears of Dana (available on PC, Vita, PS4 and Switch)
Ys IX: Monstrum Nox (available on PC, PS4 and Switch)
As you may have noticed, really we only have one of these titles in Spanish but, luckily, complex English is not used and they are understandable at a basic level. also only Ys I, Ys II, Ys Origin, Ys VIII: Lacrimosa of Dana e Ys IX: Monstrum Nox
are found on Nintendo consoles. Personally, the platform that I recommend the most to play them is on PC, but it is the player's decision where to play each one. Nintendo ports are of excellent quality, although
Ys IX: Monstrum Nox
has some performance ups and downs.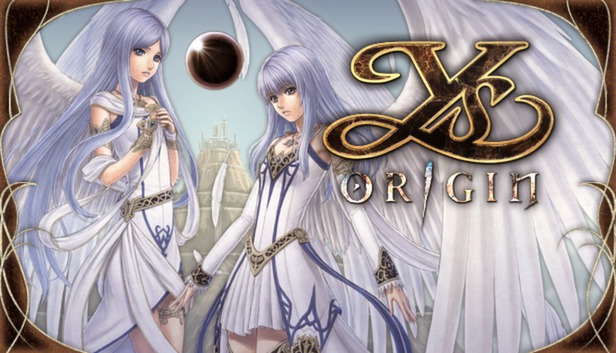 What is the ideal order to play?
As we have explained before, each game of Ys it can be enjoyed on its own and any of its games is a great starting point. But what is the best starting point and the best order to follow? It depends on the type of player, so I am going to leave you with different possibilities below:
The launch orderindicated in the previous list, is the order that I recommend the most to anyone who has decided to experience everything that the saga of Ys has to offer from start to finish. Nevertheless, Ys I as a starting point it can discourage many players from continuing to play through the franchise due to its age and high difficulty. So, in those cases, I recommend starting from Ys VI: Ark of Napishtim and follow the order from it.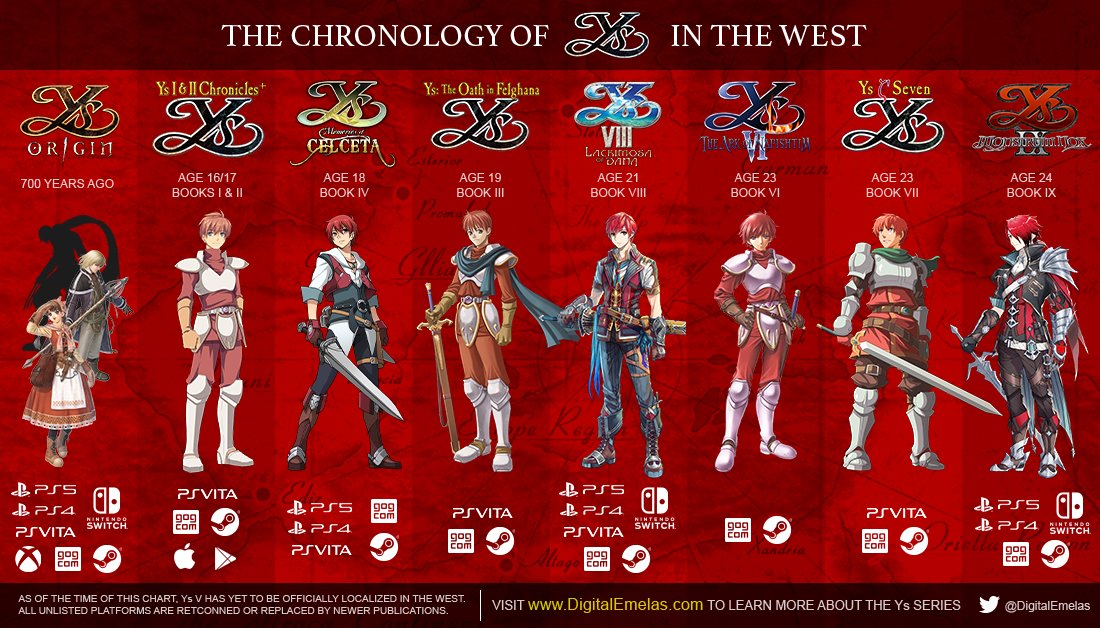 Via Digital Emelasyou can see above the following recommended order to play Ys: the chronological order. Personally, it is the one that I recommend the least due to the fact that you will be alternating between recent and older games, which will mean that you will not be able to properly appreciate the evolution of this saga through the years. However, it is the perfect order for those who want to enjoy the interconnection between each game of Ys through its history and lore.
Finally, it is not an order as such, but for those players who simply want to enjoy the best that this saga has to offer, I recommend the following titles:
Ys VIII: Tears of Dana, one of my favorite games ever and without a doubt one of the best experiences Falcom has to offer. Very entertaining gameplay, an immersive story, one of the best casts of Ys characters and an amazing soundtrack.
Ys Origin, the most easily accessible due to the large number of platforms on which it is found, in addition to being in Spanish. In my experience, it was the first Ys game I played and it's still one of my favorites to this day.
Ys IX: Monstrum Nox, the most recent of all, the most loaded with action and the best gameplay of the saga.
Ys SEVENwhere the biggest jump was made in the graphics engine and changed the game engine in the saga to the one that is still used today in the saga.
I hope you enjoy the saga a lot if you give it a chance!
Via.