Personalization on Android continues to improve with the new automatic feature that Google introduced in the latest version of Android 12, Developers Preview 3: the system widgets now adapt their color to the wallpaper of the user choosing.
We are in the middle of the race to launch the next big version of Android, number 12. No more dessert names, Google wants the system to reflect a a more serious face, a more professional, private and secure look
; all without forgetting the personalization. As we have seen after the various beta versions of development, the user will have more ways to make the phone their own. It will even be the phone itself that adapts to it.
System widgets taking the colors of the chosen wallpaper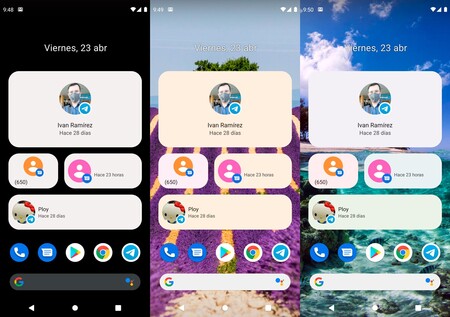 Android 12 DP3 comes with a great bug fix and some improvements; like the finally inclusion of the conversations widget and a new look for the widget selector. Precisely, the widgets hid another secret, an option that Google plans to expand to other corners of Android 12: the coloring of the interface according to the personalization of the user.
The change is already visible in Android 12 DP3 with the conversations widget, which the system includes natively. As 9to5Google discovered, the aforementioned widget has the ability to match its background to the predominant colors on the chosen wallpaper. The tone change is subtle, but it can be seen with the naked eye.
We can see it in our screenshots: with different wallpapers the background of the conversations widget change its shade to suit the office
. This automation is the start of what Google is planning for Android 12: the automatic "theme" could be available for installed apps, for the camera, shortcuts, and even for app loading screens. Everything to make the whole system uniform and consistent (where possible, Google tends to break its own rules).
Widgets with auto color are only available on Android 12 DP3 and for the Google Pixel. Once Google releases the beta, which will happen during the next Google I / O on May 18, we'll see if the topic automation ends up reaching the rest of the devices that access firmware.
Via | Android Police