If you like music and also play the guitar, this list of applications to tune your guitar from your mobile will be very useful for you. Enter now!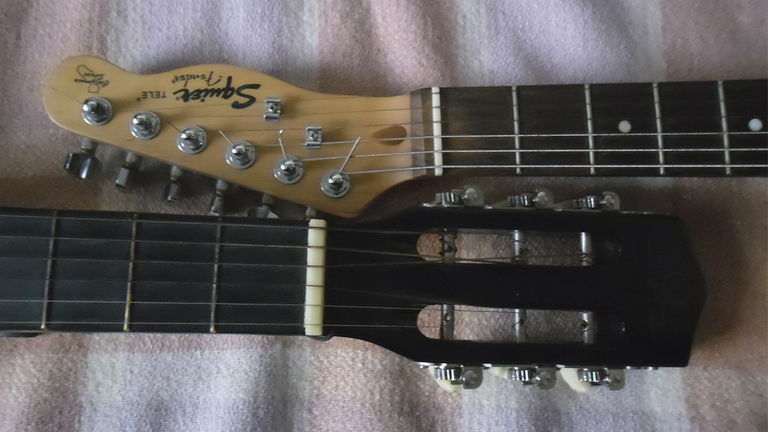 The guitar It is one of most popular string instruments in the worldand its incredible popularity is due to the fact that this instrument can be used in almost all musical genres, whether acoustic or electro-acoustic.
What is important when playing the guitar is to have a good settingdifficult thing to achieve, especially if you are a beginner.
Fortunately, it is possible adjust the height of your instrument using certain mobile applications. If you want to know what are the best apps to tune your guitar from iphonekeep reading.
The best apps to learn to play the guitar
These are the best apps to tune your guitar from iPhone or iPad
GuitarTuna: guitar tuner
easy guitar tuner
professional guitar tuner
Guitar Tuner, Bass, Uke
Guitar Tuner: Simply Tune
guitar tuner
n-Track Tuner
Classical Guitar Tuner Lite
Below you can see a list of guitar tuning appsbass and other string instruments from iPhone and iPad.
GuitarTuna: guitar tuner
One of the most popular guitar tuning apps
or another stringed instrument is
GuitarTuna: guitar tuner
. This fascinating application has a
simple and elegant interface
what sets it apart from other options.
Depending on the instrument you choose, it will display a similar one, you just have to pull one of the strings and deliver the real sound.
Now pull the string on the instrument and thanks to the microphone for mobile device you can hear the correct setting.
easy guitar tuner
Other apps quite popular among the community and recommended by music teachers are easy guitar tuner. It is extremely intuitive and easy to use.
Once you start the app choose the stringed instrument you want to tune and pull the string, now you need to adjust the pitch until the app says "OK" and change to a green color.
you can also practice your improvisations while the app is recording you, and once you are done, it will show you each of the chords you used.
professional guitar tuner
If you are looking for a professional quality simple tunerafterwards professional guitar tuner is perfect for you. With this app you can tune your guitarthe bass and even the ukulele so easy, fast and precise from your mobile.
And if you start learn the chordsthe tool has one of the most comprehensive libraries to discover more than 2600 chords.
Guitar Tuner, Bass, Uke
guitar tuner is one of the most accurate apps when it comes to tuning guitar, bass and ukulele from iPhone. Its operation is similar to other applications, since you will only have to choose instrumentactivate one of the channels and instantly the application will start adjust the tone.
One of the most attractive features is its great versatilitysince you can adjust setting according to your needs (D drop tuning, Double D drop tuning, open A tuning and more). As if that were not enough, you will have access to over 160 chords of each instrument.
Guitar Tuner: Simply Tune
Tuning your guitar, bass or ukulele in less than 1 minute is possible thanks to the application Guitar Tuner: Simply Tune. This app has a minimalist interface full of bright colors and with the necessary options for a optimal and practical operation.
Moreover, it presents two modes to tune the instrumentthe automatiqueresponsible for automatically detecting the string closest to the required height, and the manual adjustment, which indicates how close the string is to pitch. As if that were not enough, it incorporates a large chord collection and many songs.
guitar tuner
On the other hand, there is the classic application guitar tunerit is undoubtedly the most traditional and simplest tool all.
With her you can only tune guitarswhether they are acoustic or electroacoustic and it will even show the pegs of the guitars and you have to play some string you want to tune to find the right tone.
Then you will have to pluck the guitar string and the app will detect the tone, you will need to adjust the channel until get the musical tone obligatory. This process is usually very quick.
n-Track tuner
Another of the most complete applications to tune your guitar and other string instruments n-Track tuner. With this application you can tune, bass, ukuleles, electric guitarsacoustic guitars, violins, violas, cellos and more instruments if you buy the PRO version.
And for those who love tune instruments manuallyit is possible to use the mode Tuning forkwhich will display a "Key" in 3D charged with playing a reference tone at 440hz or any other note of your choice.
Classical Guitar Tuner Lite
Classical Guitar Tuner Lite has a simple interface but effective, and is able to show the exact sound frequency. Its mode of adjustment is quite technical and incorporates an A4 calibration, a tuning fork and various adjustments.
And as expected, his the interface is quite intuitive and allows you to calibrate the rope perfectly.