The popular WhatsApp messaging client allows us to customize two features of our conversations. On the one hand we can put different notification tones to each contact to know with sound who has sent us a message and on the other hand change wallpaper for each chatas we will see in this article.
Put a custom wallpaper to discussions of WhatsApp is not limited to being an aesthetic question, but also this will allow us to visually see who we are talking to. This way we can represent certain contacts and groups with an image to try to send messages to the chat that was not.
How to change wallpaper for all cats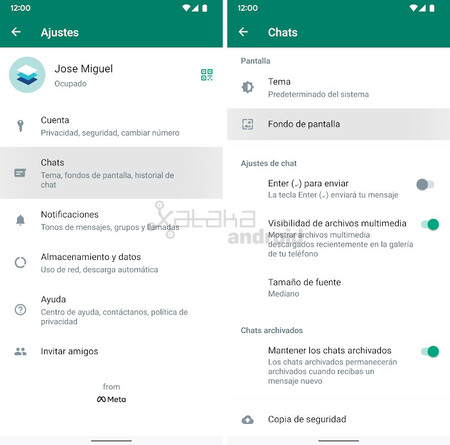 Before seeing how to set a custom wallpaper for a chat, we will see how to change the wallpaper for all chats. For this we must go WhatsApp > Settings > Chats > Wallpaper. There we can change the wallpaper corresponding to the theme that we have activated (light theme or dark theme).
WhatsApp allows us to select wallpapers light, dark, plain colors or choose any image from our gallery through the section My pictures. We can also activate the default wallpaper to leave all chats with the default WhatsApp background.
WhatsApp offers a wide variety of wallpapers. It has 32 light wallpapers, 29 dark wallpapers and 27 solid color wallpapers. For our gallery imagesonce an image is selected in its preview we can shift and resize the image to adapt it to the cat.
For plain color wallpapers, it defaults to displaying a tapestry with doodles to give a more informal touch to conversations that we can eliminate by disabling the option "Add WhatsApp doodles"
. With this option disabled, the background will be completely clean.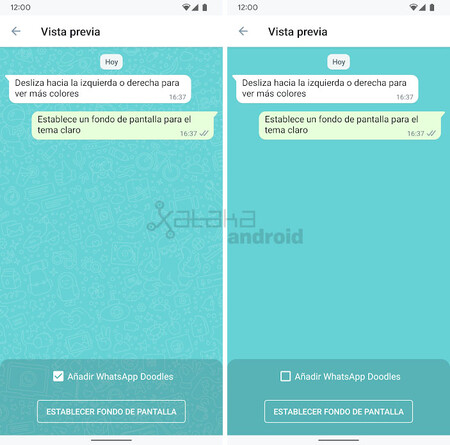 When we change the wallpaper of all chats, WhatsApp allows us to put a background for the light theme and a different background for the dark theme. To do this, we must first select a theme from Adjusted > Cats > Tema then select a wallpaper for this theme.
In the dark theme wallpapers we find a new option, that of adjusting the Screen brightness. This option allows us make the wallpaper darker or lighter.
custom wallpaper
To put a custom wallpaper, we must enter the chat to which we want to change its background image. Once inside the conversation, we will Menu > Wallpaper. There we only have to choose an image and when we click on set wallpaper check the option "For this chat" and confirm to change the wallpaper only in this chat. If we choose the other option, the wallpaper will be changed for all chats that do not have a custom wallpaper.
For custom wallpapers we can't have different background for light theme or dark theme, we can only customize the brightness of this background in dark theme. We can only have two different backgrounds for the rest of the chats that don't have a custom background.
Delete a custom wallpaper.
To remove a custom wallpaper, we must follow the same steps. In the chat we access the "Wallpaper" option and we will find the option "Delete custom wallpaper" and this sets us the same wallpaper as the rest of the chats.
In Engadget Android | The easiest way to read WhatsApp messages without them knowing: with the Google Assistant