Since the beginning of this month of June, a few lucky users of the Samsung Galaxy Watch 4 have been able to access the closed beta of One UI Warch 4.5, where the manufacturer Samsung has started testing its first new features, but we had to wait until see you today for see its new interface and new features.
Thanks to our favorite leaker Evan Blass (@evleaks) we can see the screenshots of the main novelties of A 4.5 UI Watch
updating the personalization layer according to
Port OS 3.5
.
What's new in Wear OS 3.5 with One UI Watch 4.5
As detailed by Xataka Móvil a few weeks ago, the beta of Samsung Watch One UI 4.5 spear new double complications that now we can finally see, at least three of the the new double watch awaitseach with a totally different design to adapt to the tastes of each user.
The new version of One UI Watch 4.5 receives clock keyboard improvements like its renewed interface. In the image below we can see the interface that the new keyboard selector, voice dictation or classic keyboard with support for multiple languages ​​will have.
Filtration finally shows us the interface of the Dual SIM functionality. In the phone dialer we have direct access to quickly change the SIM card. We can also select the SIM card to call from the call history.
In the following captures we find the color correctiona new option that will allow us to calibrate the colors of the screen, as happens with mobile phones, but not all the options that we will find in Samsung watches appear in the leak.
Samsung One UI Watch 4.5 will also allow us to adjust the sound balance in the left and right speakers, this will allow us to adjust the duration of the touches on the screen or add shortcuts to accessibility options so that they are executed with a double tap, as As we can see in the following screenshots: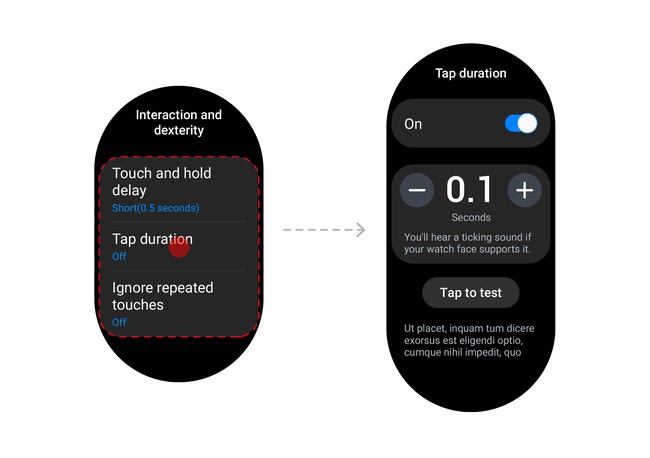 The update is expected One UI Watch 4.5 with Wear OS 3.5 reach the Samsung Galaxy Watch 4 after the summer, perhaps with the launch of the new Samsung Galaxy Watch 5.
Through | XDA Developers