Laptops like MacBooks are very versatile as they allow you to work both on the go and from home. In the latter case, it can be connected to an external monitor for added convenience. But if you are one of those who carry it with you from place to place every day, a cover is useful as much as necessary if one does not want the equipment to suffer damage.
There are blankets in all colors and materials. Some focus more on design and others more on protection. According to your tastes and your needs, we offer nine covers to protect your MacBook or MacBook Pro from scratches and bumps.
MacBook cases
Belkin Sleeve for 13-inch and 14-inch MacBook
We start the selection with this Belkin case (9.99 dollars) for 13 and 14 inch laptops. East neoprene outside for good protection and durability. It has an external zipped pocket in which to store cables and other accessories, as well as a retractable handle to transform the cover into a kind of briefcase and transport it in the most comfortable way.
Belkin B2B075-C00 – Case for Apple MacBook Air 13″, Compatible with other 14″ devices, Black
Tucano Today sleeve for 16-inch laptops
Available in five colors, the Tucano Today shell (26.99 dollars) protects laptops up to 16 inches from possible bumps and scratches. The exterior is faux fur to add a touch of distinction. The interior is made of memory foam padding, an anti-slip protective strip so that the laptop does not fly away even if the case is opened downwards, and an internal material anti-scratch.
Tucano Today Notebook Sleeve with Memory Foam 15″ – 16″ Orange
UAG Medium 13″ Laptop Sleeve
While Urban Armor Gear cases stand out for their sturdiness and durability, their Medium Sleeve laptop case ($32.99) is no exception. Available in black or red, it's made of hard-wearing materials that provide a good grip so they don't slip easily. Drop tested to military standard MIL STD 810G-516.6. Depending on the brands, two laptops can be sheathed, as it is also compatible with 11-inch models, iPads or other devices with similarly sized screens.
UAG Medium Funda MacBook Pro 13″ Sleeve Red
Herschel Anchor 13″ Laptop Sleeve
The popular brand of backpacks, fanny packs, hats and other products also offers laptop sleeves. Its wide sleeve (42.99 dollars) It is made of recycled polyester and has a quilted interior with a fleece lining., so it is environmentally friendly. The classic style label that displays the brand name is woven, and its sleek and contemporary design is suitable for all types of users.
Herschel Anchor Sleeve MacBook Pro/Air 13″ recycled polyester
Smatree Hard Case for 14-inch MacBook Pro
Compatible only with the 14-inch MacBook Pro (2021), the Smatree hard shell (39.99 dollars) offers good protection for the laptop against shocks and dirt. The interior is sufficiently padded to prevent bumps and damage. East composed of different layers
to maximize security.
Smatree Protective Hard Case Compatible with MacBook Pro 14 Inch 2021 Models (Not Fit Other 14 Inch Laptops!) Slim Drop Resistant Laptop Bag
UGREEN 13 inch laptop sleeve
Another universal sleeve for 13 inch laptops. This UGREEN model (19.99 dollars) has an outer pocket in waterproof soft PU suede leather, waterproof and easy to clean. Inside, a fleece lining and thick padding protect the equipment from dust, scratches and minor bumps. It is very light, weighing 153 grams and only 20 mm thick.
UGREEN 13.3 Inch Laptop Case Compatible with MacBook Pro/Air M1 2020, Waterproof Anti-Scratch Laptop Sleeve for Asus Zenbook 13, Lenovo Yoga, Surface Pro, Huawei Matebook, HP Envy, DELL XPS
Moshi Muse sleeve with stand for 14-inch laptops
If you're looking for a very elegant way to transport the 14-inch laptop, Moshi's Muse case (62.99 dollars) has a very clean and d istinguished aesthetic appearance. It has a storage pocket to comfortably carry accessories such as cables and chargers. When the computer is to be used for work, it is carried on a stand that provides an optimal position for viewing and typing. The cover has no zippers, but a SlipGrip opening system with magnetic closure, safe and solid. Inside there is a microfiber lining and the outside has a vegan leather finish
.
Moshi Muse case with caramel MacBook Pro 14″ stand
Thule Gauntlet 13″ Laptop Sleeve
Another box that stands out for its resistance is the Thule Gauntlet (39.99 dollars). With padded interior to avoid scratches due to friction, it is made of polyurethane and has good insulation. It is characterized by its lightness, impermeability and durability. It has two zipper pulls and a clamshell design that allows it to stay open so you can use your laptop inside the case.
THULE Gauntlet 4.0 Mochila Tipo Casual 30 Centimeters Azul (Blue)
Nomadic leather case for 13-inch MacBook Pro
We finish with the Nomad Sleeve (199.99 dollars), an exclusive leather case with a high resistance EVA interior. This case goes even further in protection and luxury than the other proposals. The leather is made in the USA and ages beautifully over time, giving it character. It is completed by 48 N42 grade magnets that ensure precise and effective closure so that it does not open when put in the backpack or bag. Plus, it's smartly designed to provide access to USB-C ports without having to remove your laptop from its case.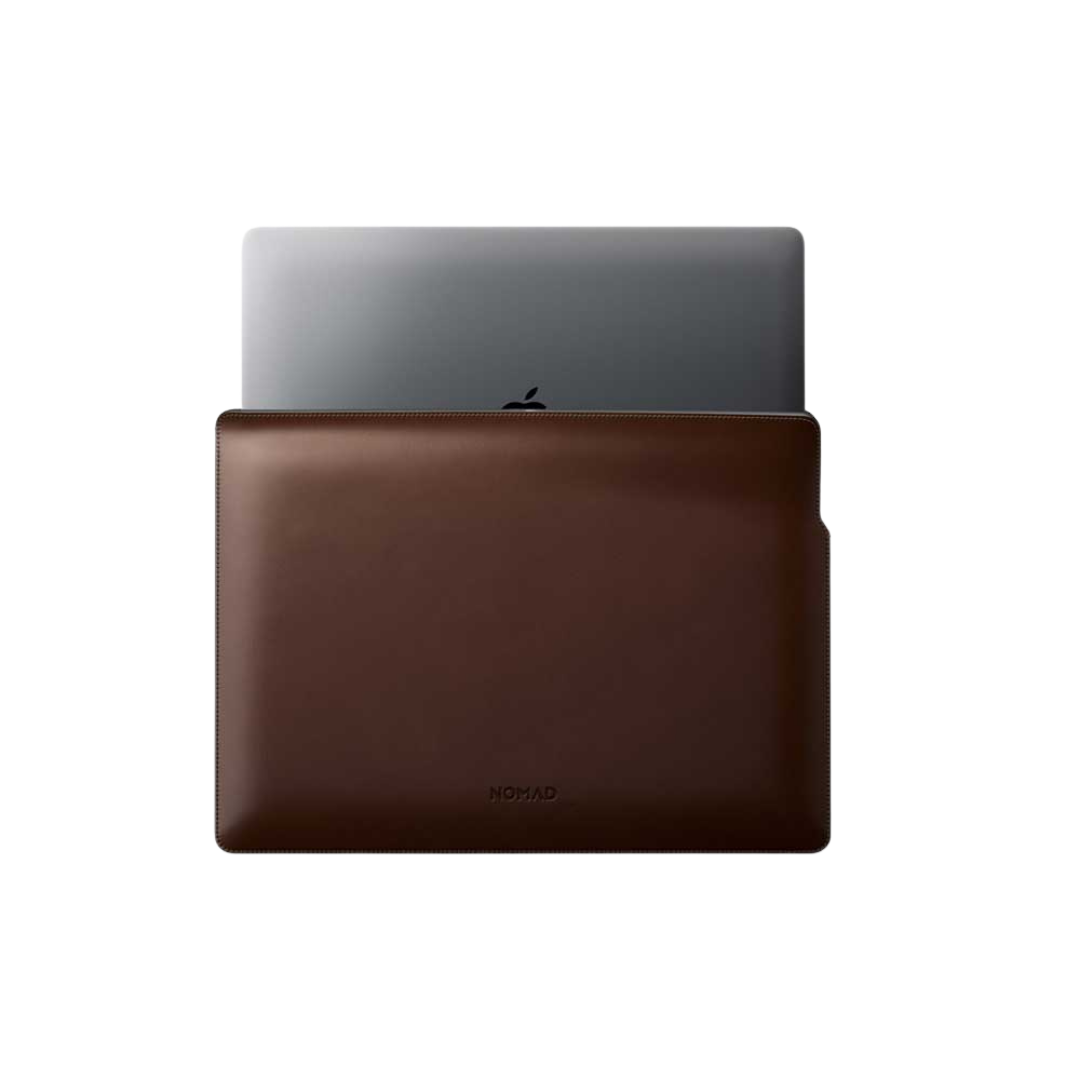 Nomad MacBook Pro 13″ Rustic Brown Leather Case
In Applesfera Selección we publish the best offers related to Apple products and compatible accessories. Prices and availability may change after publication.
You can be up to date and at all times informed of all the news from the Apple world and the offers of Applesfera Selección in our profiles of Twitter and Facebook.

Note: Some of the links displayed here are affiliate links. Despite this, none of the items mentioned were offered by either the brands or the stores, their introduction being a sole editorial decision.