There's lots and lots of anticipation surrounding the new iPhone 14 Pro which we should see in about a month. Some iPhones from which we expect minor changes, yes, but cumulatively, more if combined with iOS 16, they will look spectacular.
An operating system very oriented towards the iPhone 14
The list of changes in the hardware of the iPhone 14 Pro may be smaller than we would like, but between the screen always on and the new notch with line and dot
We will definitely notice the difference. A bigger battery, lower power consumption and a more powerful A16 Bionic chip add to the l ist, but the biggest contribution comes from the software.
As we can see in the renders that user AR72014 posted on Instagram, the combination between the new iPhone 14 Pro lock screen and design
really catches the eye. And that without forgetting the always-on screen mode, which will continue to show us the information without having to activate the phone screen.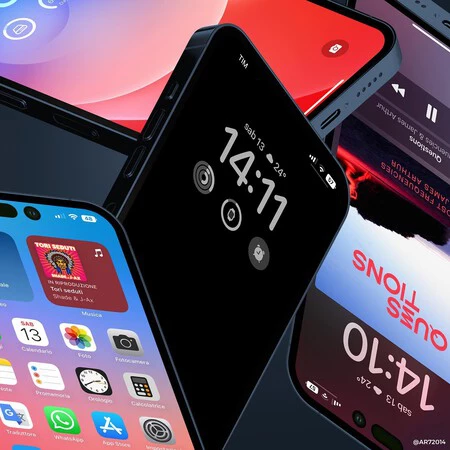 And could Apple redesign the status bar? Even today we commented that Apple keeps changing the battery percentage indicator on iPhones, but the truth is that the new notch leaves room for more. We could well see an additional indicator in the bar or the possibility of seeing the information in a different way.

For now, we're basing our designs on rumours, although there are plenty of them and they coincide in their claims, but if Apple is a specialist in anything, it's surprising us on stage. In less than a month, if we pay attention to the calendar of other years, we should know everything about the new iPhone 14 and verify that, really, The iPhone 14 Pro with iOS 16 will be spectacular.