Thanks to Universal Control, we can interact with different Apple devices from a single mouse and keyboard. Whether it's controlling an iPad Air from our MacBook, an iMac from our iPad Pro, or using two Macs at the same time with nothing more than a keyboard and mouse, Universal Control lets us streamline workflows. work and do more with more devices. .
What is it and what is it for universal control
Universal control allows us to interact with different devices without having to physically touch them. The system relies on Bluetooth and Wi-Fi connection to be able to transfer keystrokes, movements and gestures on a trackpad or mouse to different devices.
Switching control focus between them is as easy as move the mouse from one to the other. With this we will indicate to the ecosystem which device we want to control. Thanks to this configuration, we can concentrate on a single keyboard and mouse/trackpad to work with several devices at the same time.
In addition, the system is prepared so that we can drag files from one device to another and these are transferred instantly. So we can take a screenshot on the iPad on our left, drag the document onto our MacBook Pro screen in the center, and drop it into a Pages document on the iMac on our right in a single step.
What software and hardware configuration do you need
There are several requirements, both software and hardware, for Universal Control to function properly. When it comes to software, there are three factors to consider. The first is that all the devices we want to interact with must be logged in with the same Apple IDthe account must also have two-factor authentication enabled.
The second is that all devices must have Bluetooth, Wi-Fi and Handoff function activated. The devices must be within 10 meters of each other, and the iPad and Mac cannot share an Internet connection through Personal Hotspot, either wirelessly or via USB.
Ultimately, the Mac must be a trusted device for the iPad. Additionally, we require iPads to be running iPadOS 15.4 or higher and Macs macOS 12.3 or higher.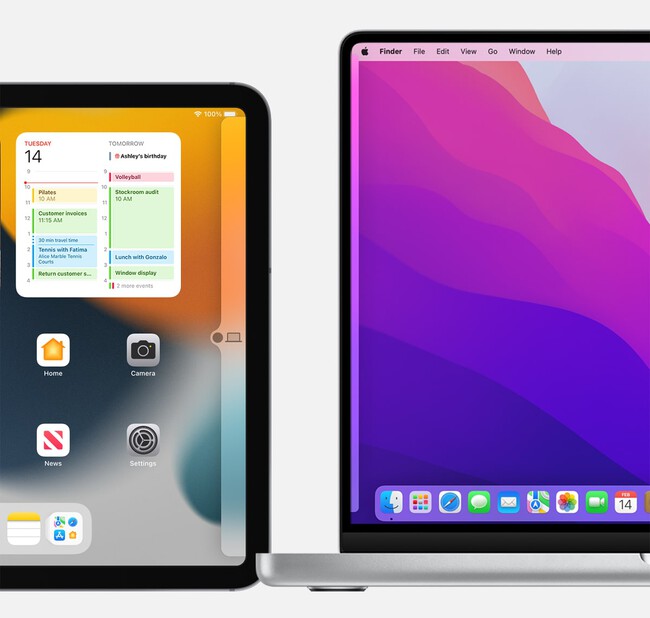 When it comes to hardware, there are also some requirements. The list of supported devices with this system is quite extensive, in particular the following elements:
MacBook Pro 2016 or later.
MacBook 2016 or later.
MacBook Air 2018 or later.
iMac from 2017 or later.
Late 2015 27-inch iMac 5K Retina.
iMac Pro.
Mac mini from 2018 or later.
Mac Pro 2019.
All iPad Pro models.
iPad Air 3rd generation or later.
6th generation iPad or newer.
iPad mini 5th generation or later.
Universal Control works between two Macs, or an iPad, or a Mac, but not two iPads. On the iPad, we can use the Apple Pencil, but not to control the Mac, because it requires a trackpad and keyboard that can be used on both the iPad and the Mac. The touchpad and keyboard may be third-party.
How it works and what we need to configure
Universal command is enabled by default on devicesso we don't have to do anything other than make sure we meet the software requirements we just described and that on the iPad, in Settings
>
General
>
AirPlay and Handoff
,
cursor and keyboard
is not disabled. However, there are some options that we can adjust. we go from
System Preferences
>
screens
>
Universal control
.
Right here we will find three options: Allow use of cursor and keyboard on any nearby Mac or iPadwhich is used to enable or disable Universal Control; Move your cursor past the edge of a screen to connect to a nearby Mac or iPadwhich allows us to use this method to establish the connection instead of having to go to System Preferences, and Automatically reconnect to any nearby Mac or iPadwith which we will always have our other Mac or iPad ready for Universal Control.
How do I connect to an iPad or Mac using Universal Control
Please note that we cannot launch Universal Control from an iPad, we have to do it from a Mac. That said, there are two ways to connect from your Mac to another Mac or iPad. The first is as simple as dragging the mouse to the edge of the screen where our other iPad or Mac is physically located. We will see that the mouse simply displays the animation that we see above these lines and "jumps" to the other device.
The other way is to go to System Preferences > screens. Here in the selector add screenat the bottom left, you can choose any device under Pair keyboard and mouse with to establish the connection. By doing so, we will see that the new device appears next to the screen of our Mac. If necessary, we drag it to the right or to the left to position it correctly.
What uses can I give Universal Control
We come to the most interesting part. Why use Universal Control? Unlike Sidecar, which gives us more space on the screen and can be used in combination, Universal Control allows us to interact with different devices in a way that at any time, let's use each of them.
The most interesting use of Universal Control is in power use two operating systems at the same time easily. We can prepare a document on our Mac, but need a dedicated application for the iPad to, for example, perform tasks with the LiDAR sensor and generate images. Thanks to Universal Control, we can avoid having to physically move between devices and use the best of both while dragging the resulting files from the iPad directly to our Mac.
There are many examples of workflowsfrom having an audio recording on the iPad to capturing voice while we edit a video on our Mac, to reading a book with the Kindle app on our iPad while taking notes on the Mac.

As with everything, each person will get the most out of Universal Control. In any case, we will always be without having to physically change devices and with the advantage of having to carry a single keyboard to act with different devices. A feature that highlights the ecosystem vocation of Apple devices and that, thanks to it, the whole is more than the sum of the parts.